Creating a Teen Hangout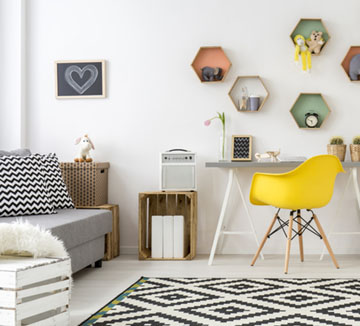 It's difficult to predict how the pandemic is going to continue to impact our lives over the fall and winter months. But it seems safe to say that the more time we can spend at home, the safer we will still be from coronavirus. If you have teenagers at home, then it can be challenging to share a living space with them. Teenagers are beginning to assert their independence, and they need some time away from family members now and again. If you haven't already done this, now is a great time to create a teen hangout space in your home where your teen can retreat when they need to relax and recharge.
Treat them to a bedroom makeover
When was the last time you redecorated your child's bedroom? If it's been a few years, then it's time for a makeover. Help them create a bedroom space that is comfortable and more grown up. This means swapping out the Disney décor for something more contemporary and adult that lets their unique personality shine. If the room is big enough for a small sofa, then this can make the room feel even more like a hangout space. Add new lighting and have some of their favorite photos framed.
Create a game room
Do you have a spare room in your home, such as a guest bedroom or even a storage area? Then why not transform it into a game room? Having a place to engage in a little fun is critical, especially if we're once again asked to shelter in place. If you have enough space, then consider adding a ping-pong table. Stock up on board games or carve out space for playing video games. Give them a way to play their favorite music, and maybe even add a mini fridge so they don't have to raid the kitchen for their favorite snacks.
Transform the basement
If your home has a basement, then this is really the perfect place to create a teen hangout space. Giving them an entire floor that they can retreat to when they need their own space can be ideal for everyone. Not only does it give them room to spread out, but it can also keep the upstairs portion of your home much more tranquil. You can create zones in the basement that your teens use for different purposes. A comfy sofa and a TV can create a zone for watching movies or playing video games. You can transform a corner into a sleeping nook with a bed and a privacy screen. Don't forget to add a desk so that your teen has a place to complete homework or attend online classes if needed.
Give them some outdoor space
Finally, give them a corner of the backyard that they can call their own. Hang up a hammock or get some comfy outdoor furniture where they can lounge. You can make their area a little more private with seasonal container plants or trellises. Add some fun lighting so that they can enjoy their outdoor space even when the sun goes down.
Compliments of Virtual Results
What Others Are Saying