The Philadelphia Main Line runs along the former Pennsylvania railroad of the same name and includes some of the most desirable residential neighborhoods in Pennsylvania in which to live or invest. These neighborhoods include Berwyn, Newtown Square, Haverford, and Media.

Homeowners along the Philadelphia Main Line benefit from excellent school systems, beautiful and well-established neighborhoods, and a strong sense of community—all within reach of the city. Whether you plan on keeping your Main Line home for many years to come or are planning to sell and upgrade, you should consider investing in the renovations that maximize the comfort, luxury, and technological integration of your home for the future.

Consider the following home upgrades for yourself, your family, or your future Main Line home buyers.
1. Heated flooring
Do you hear your family complain about their feet getting cold during a particularly harsh Main Line winter day? You can advise them to put on thicker socks—but you can also make some luxurious, energy-efficient upgrades to ensure your home remains a more comfortable temperature year-round.

Also known as radiant floor heating, heated floors use less energy than traditional forced heating, without circulating airborne materials, and can help you keep the thermostat turned down. Heated floors are fantastic upgrades for Mainline homes, especially in rooms where you often go barefoot, like the master bath. Floor heating helps keep more than just your feet warm, too. If you install it in an entire zone of your home (especially in the basement) you'll notice your house stays warmer throughout the cold months even when the heater is set at lower temps.
2. An indoor bar
The low temperatures in Pennsylvania can prevent you from using your outdoor entertaining space, so consider upgrading your home with an indoor bar. Wet bars have made a recent comeback with both new constructions and remodels in Berwyn, PA. If you have a large basement, you have an ideal space for an indoor bar where you can host gatherings without leaving the house. Depending on how fancy you want to get, an indoor bar will cost anywhere from a few thousand dollars to more than $10k—but they often return this expenditure in added value when the time comes to sell your home.
3. An outdoor kitchen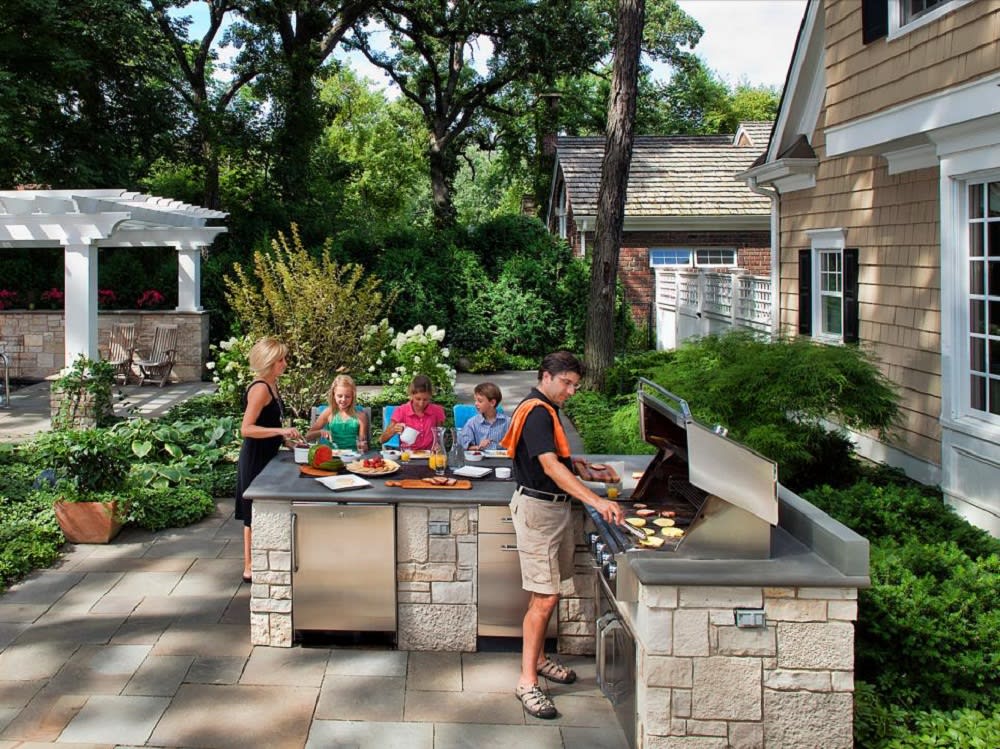 Credit: HGTV

Philadelphia Main Line residents regularly experience wintertime lows in the 20s, but you can create a cold-weather-friendly outdoor space. Add an outdoor fireplace, strip heaters, or other outdoor space heaters to your deck or patio to make it more amenable to colder temperatures.

With your space tailored to cold weather, consider making a permanent improvement by adding a luxury outdoor kitchen. If your budget allows, opt for a top-of-the-line space complete with cabinetry, a wet bar, countertops, grill, and appliances that can survive the cold. This version can cost upwards of $20,000, especially if you use luxury materials like stone, however, it will likely make your home stand out from the competition should you choose to sell.
4. Sauna
In addition to personal enjoyment, a sauna can reduce blood pressure, inflammation, and ease pain from arthritis or headaches while increasing cardiovascular health. Regular sauna sessions also help with detoxification and can produce physiological responses that are similar to medium to high-intensity cardio. In the past, installing a home sauna was complicated and required an entire room to be devoted to the purpose. Now, however, it's possible to get a low-cost portable sauna for as little as a few hundred dollars. However, if you want to go with a luxury option that is durable and can fit more than one individual, you may pay as much as $8,000 for this upgrade.
5. Home theater
Credit: The Spruce

Home theaters are great for weekly watch parties and family movie nights. Additionally, they are a major selling point for potential buyers. Luxury houses with theater rooms are all the rage now in Media, PA, and buyers will gravitate to your listing if you have one installed. Theater rooms can be basic with just a TV, sound system, and media player. They can also be high-end with theater seating, projector, top-of-the-line sound system, and professional design and installation. Depending on which route you choose to go, you could spend anywhere from around $900 to upwards of $50,000.
6. Wine cellar
A custom-designed wine cellar represents a timeless added luxury for homeowners, and buyers of Newtown Square homes for sale are bound to take notice. If you plan to add one of these to your Main Line home, you're looking at a minimum cost of $10,000 for climate control, wine racks, and construction. More elaborate and larger options can run into the $75,000 range and hold more than 3,000 bottles of wine. But keep in mind: none of these costs include the actual price of the wine itself!

Main Line homes with luxury upgrades are not only more enjoyable for the owners, but they are more appealing to buyers looking for unique, high-end properties. Whether you've already made some upgrades, or are looking for recommendations on where to start, reach out to trusted Main Line real estate agent Meghan Chorin for local expertise and the best customer service on the Philadelphia Main Line.