There's no shortage of spectacular housing along the historic Main Line and the equally beautiful locales throughout Delaware, Chester, and Montgomery counties.

From Devon and Wayne to Newton Square and Media, the region offers an incredible mix of accommodations, including Classic and Dutch Colonials, Tudor Revivals, bungalows, ramblers, Craftsman, and even a healthy dose of mid-century modern homes.

One of the more majestic enclaves is the community of Berwyn. Predominantly consisting of large Colonial mansions, an exceptional pride of ownership permeates throughout the neighborhood.

Even with its stately aesthetics, well-manicured lawns, and abundance of relatively new construction, much of Berwyn's housing was built well before the turn of the century. Many homes are from the 1940s to the 1960s, with another building era occurring in the 1980s and 1990s. Some houses, though, date to the turn of the last century.

While almost all homes are extremely well-maintained, buying luxury housing in Berwyn might necessitate an update or two. The good news is freshening up your interior doesn't require a considerable commitment of time or resources. In fact, many updates are achievable in a day or weekend and, with one exception (no. 4 below), without breaking the bank or significantly altering your floor plan.

Below we take your already stunning Main Line and infuse a bit more luxury with these five interior design tips for your Berwyn home:
Small Steps with a Big Impact
Let's get started with small design touches that result in significant transformations. After all, effective interior design is equal parts what you do and how you do it. The most meaningful makeovers are often the most subtle of changes.

For example, updating your home's lighting package is as simple as installing new, energy-efficient LED bulbs or swapping out tired and dingy light covers or shades for new ones.

Have a room with disparate elements that don't work together as well as they should? Add an area rug that performs double duty by adding another level of comfort to the room and pulling everything together.

Overcome pesky features, such as the annoying-but-necessary radiator, by thinking outside (or inside) the ill-fitting box. Paint it to give a room a subtle-but-welcome pop of color, or cover it with a custom cabinet that hides the eyesore and gives you additional storage space.

One of the quickest ways to make a huge impact is replacing your home's fixtures, hardware, and faceplates. Don't skimp on the effort and ensure everything is in play - kitchen and bathroom cabinet knobs and pulls, door handles, locks, faceplates (both light switches and electrical outlets), and your sink and tub faucets. You'll be shocked at just how much your home's minor features impact its overall aesthetic.

You can even take things a step further and update tub surrounds, kitchen or bathroom backsplashes, and yes, even swapping out a dingy toilet for something new or with added character.
Bright Spaces, Bright Faces
As great as many homes are in Berwyn, older houses can sometimes be dark and dour affairs. Whether from the compartmentalized nature of the rooms, heavy window treatments, or paint colors that should have long ago been refreshed or updated completely, transforming an opaque interior into something more luminous is not overly complicated. Plus, it can serve to perk up your mood too.

To get started, use neutrally-colored paint to add instant brightness to a room. There are varying degrees of luster, so employ hues that suit your tastes and the accents and furniture that will fill the room. Certain areas, such as a foyer, are best kept as neutral as possible to ensure a radiant welcome for your guests.

Once you've tackled the wall color, reassess your window treatments. When aiming for an open, airy room, promote as much light breaking through into the space as possible. Hang curtains as high and as wide as you can to fully frame the window. You can also layer for a more interesting effect, but don't overdo it.

If privacy is a concern, opt for two-inch wood or faux wood blinds. When closed, it's akin to walling off your window, but when open at the right angles, they allow light to pour into the room.

Finally, short of knocking down walls and opening up a home's floor plan (more on that later), you'll have to get creative when livening up smaller spaces. Strategic placement of wall or floor mirrors near light sources are a great quick fix to expand the implied area of a room. Light-colored, minimalist furniture (think low to the ground) will further enhance a darkened room by limiting shadows. Less clutter and limited wall hangings promote the reflection of light around the room.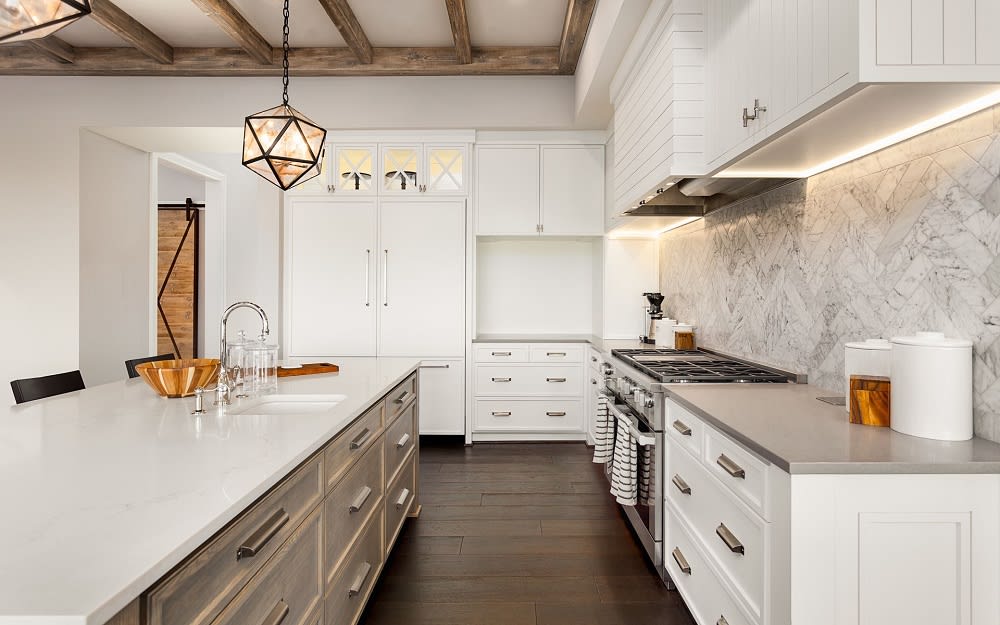 Go Bold
A long-standing trend in luxury homes across the country is the use of wallpaper. Bold, loud, statement-making wallpaper. Far from the wall-covering of old, modern wallpaper comes in various textures and materials, including canvas, bamboo, foil, vinyl, lacquered, grasscloth, or fabric, and an even wider selection of patterns.

Admittedly not to everyone's taste, bold wallpaper will liven up otherwise utilitarian spaces - a dour powder room, a formal dining space, or the ceiling of an oversized dressing area or wardrobe.

But bold strokes need not be limited to dynamic wallpapering. Kitchen cabinets, kitchen and bathroom backsplashes, and barren walls in large rooms offer space for a rebellious creative streak to make a statement. An essential rule in bold design, though, is to be bold with purpose.

You don't want to toss up something striking without context or the ability to tie it in with the tamer elements of your design scheme. For example, to cover a large barren wall in your neutrally decorated living room, instead of the typical solution of adding a vibrant accent color, an oversized print or wall-hanging might better serve the space without overwhelming it.

It can prove nerve-racking when first considering a design scheme well outside your comfort zone, but taking an artistic leap of faith can lead to a wonderful style that is all your own - and the envy of others. And remember, it's never permanent. If you don't like it, you can change it.
Don't Shy Away From Addressing Spatial Needs
Though Berwyn, and many of the upscale enclaves along the Main Line, offer a standout collection of homes, there does come a time when the house may no longer fit your current needs.

Whether it's a growing family or lifestyle change such as a permanent move to working from home, the thought of having to relocate to accommodate the shift in priorities is daunting. Especially when you're not keen on leaving what might otherwise be a great house you love.

In this scenario, interior design makes the most meaningful impact - through renovation or a remodel. Given the oversized lots prominent with Berwyn real estate, the space necessary for an addition should not be an issue for those with expansion needs.

You will want to ensure that the design and construction team you hire is familiar with working on your style of home. Colonials, for example, are a study in symmetry, and an addition may disrupt that pleasant design aesthetic if not appropriately managed. Other styles, such as mid-century moderns, have their own unique requirements when expanding your floor plan.

It can prove a bit trickier for those who want to alter a space without affecting a home's original footprint. Here, employ a designer experienced in your specific needs.

From converting an extra bedroom to a home office or wiring and reconfiguring a den or loft area into a multiple-purpose space, Berwyn homes are surprisingly flexible. The key is to partner with someone who can help you realize your vision while fulfilling your lifestyle needs.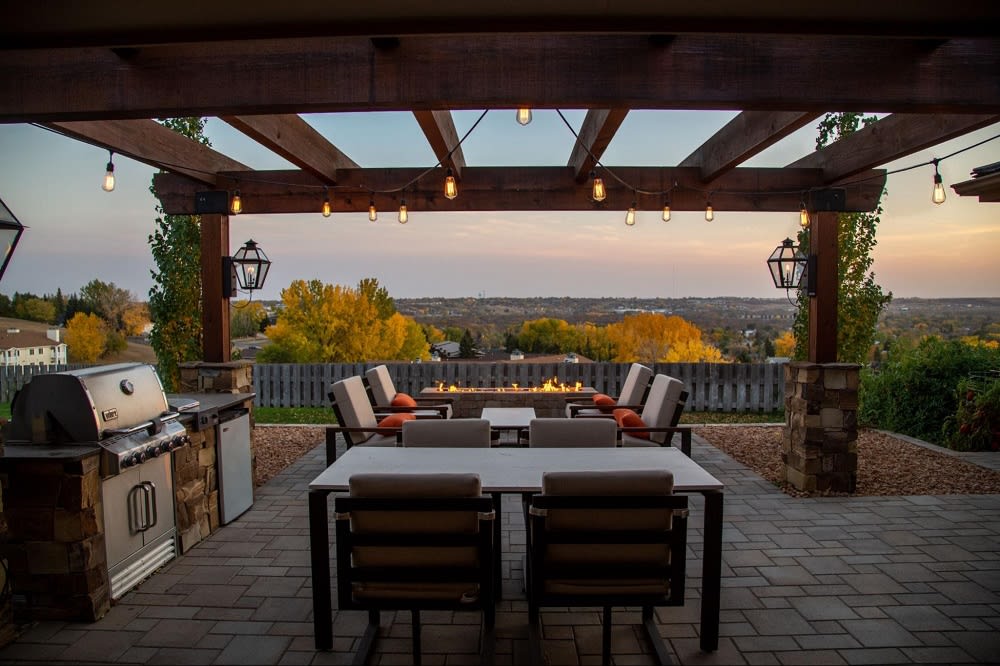 Don't Forget Your Outdoor Spaces
The past year taught many homeowners the importance of utilizing every square inch of their house, including outdoor areas. You'll want your outdoor spaces designed for your lifestyle, but expanding your patio for cooking, entertaining, or relaxing is equivalent to adding another room to your house.

Popular elements include de facto kitchens with grills, side burners, a small sink, counter space, fire pits or patio heaters, dining tables capable of expanded seating, and additional storage to keep all your accessories organized.

Choose outdoor furniture for both its form and function. The more time you plan to spend outside, the more comfortable you'll want your chairs, loungers, and sectionals to be. Seek out durable frames - aluminum, wicker, or wrought iron - paired with supportive, weatherproof cushions to achieve the best of both worlds.
Ready to explore the best of Main Line Pennsylvania real estate? Contact The Meghan Chorin Team today to start your home buying or selling journey. From Berwyn, PA real estate to Newtown Square homes for sale, allow Meghan and her dedicated team's years of experience and expertise to be your guide to the Delaware, Chester, and Montgomery county luxury real estate market.